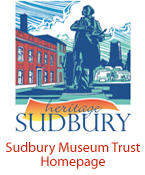 Welcome
In 2007 the Sudbury Museum Trust acquired a folder of early Ordnance Survey maps of Sudbury. Each of the 15 maps measures 97 x 65 cm and covers a small area of the town in incredible detail – the scale is 1:500. Nos 1-8 were originally published in 1885 and Nos 9-15 in 1887 but they both show the town in 1881 - the date of the original survey. We believe that many people will be interested in these maps and the complete set has now been scanned and entered onto this website.
The maps were originally in the possession of the Borough Surveyor's Department and a few of them carry later additions – mainly of buildings constructed between the date of publication and the next major survey of the town in 1904. These additions are hand drawn and often the shading is uneven and in a darker ink: attention is drawn to them in the brief description accompanying each map. Each description also includes the original Ordnance Survey sheet number in Roman numerals.
We are grateful to the Ordnance Survey for permission to reproduce these Crown copyright maps. We are also indebted to Colin Patrick Associates for tackling the complicated task of scanning these vast maps and to Simon Appleby for designing and setting up this website. We thank the Sudbury Freemen's Trust and the Sudbury Educational and Training Trust for financing the whole project.
Dedicated to the memory of Peter Blackwell, former Sudbury Borough Surveyor.
David Burnett
Secretary
Sudbury Museum Trust