Private Ernie Lever died a prisoner of war just one week before the Armistice, possibly of the influenza epidemic that swept through Europe at that time.
Lt Col William Armes (top right) was in command when the battallion set sail on the Aquitania for Gallipoli. Six days after his division landed at Suvla Bay, he was reported 'wounded but missing'. His death was not confirmed until the following year.
Lt Col Charles Tippet died on the 7th August 1915 aged 52, the day after landing at Suvla Bay on the Gallipoli peninsular.
Captain Robert Smylie was killed in action on 14th July 1916, by a single shot to the chest. The bullet went straight through his pocket book.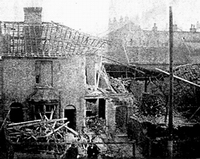 There were deaths on the home front as well. Five people died when a German Navy Zeppelin airship dropped a string of bombs across Sudbury on 31st March 1916.
Lance Corporal William Lee worked in the Gas Works in Sudbury, enlisted in the Suffolk Regiment and was killed in action on the Somme in 1916.