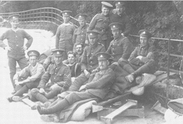 44044 9th Battalion, Suffolk Regiment

William Lee known as Charlie was born in December 1893, the son of William and Ellen Annie (Nancy) Lee. He had a sister Daisy, and the family lived at 6 Church Row, Great Cornard before moving to 61 Friars Street, Sudbury. Charlie worked in a matting factory as a warper before going on to work at the Sudbury Gas Works. His father worked at Brundon farm and mill as a farm labourer and horseman. His sister Daisy worked as a silk weaver at Vanners and Fennell.

Charlie, like his father was a bell ringer at All Saints Church, Sudbury. He was described as 'a promising young ringer and at the age of 18 rang the 6th bell at All Saints to a peal of Grandshire Triples (Holts10 part peal) 5040 changes at the first attempt'.

Charlie enlisted in Sudbury and served with the Suffolk Regiment (formerly 4319). In 1916 the battalion formed part of 71st Brigade, 6th Division and saw action during the later phases of the Battle of the Somme at the battles of Flers-Courcelette (15 – 22 September), Morval (25 – 28 September) and Le Transloy (1 – 18 October). At the Battle of Le Transloy they fought in terrible weather and a combination of the heavy clinging Somme chalk and the freezing flooded battlefield was as much of a formidable enemy as the Germans. Charlie would have served alongside other Sudbury men including Percy Hollingsworth and Robert Nunn who also lost their lives on the Somme that summer.

Charlie was killed in action aged 23 on 10 October 1916. There is no known grave and he is remembered on the Thiepval Memorial, Somme, France. The Thiepval Memorial bears the names of 72,089 casualties who lost their lives in the Somme sector and who have no known grave.

Charlie's death was reported in the Suffolk and Essex Free Press on 22 November 1916. The following month Sudbury Bell Ringers rang a 'Grandshire Triples' half muffled peal at All Saints Church as 'a token of sincere sympathy for the fallen bell ringer Charles Lee'. His mother's mental health never recovered from the shock of his death.

Charlie was awarded the British War Medal and Victory Medal and is also remembered on the Great Cornard War Memorial.

A Cross of Remembrance was laid on behalf of his niece and her mother Daisy at the Thiepval Memorial in April 2006. A Cross of Remembrance was also laid in April 2009.