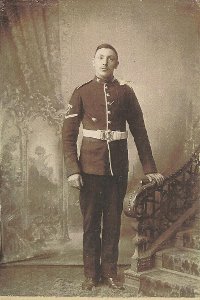 240713 2nd Battalion Suffolk Regiment

Albert Gill was born on 1st July 1897 at 50 Sepulchre Street (now Gainsborough
Street), Sudbury. He was the 4th son of Thomas Andrew and Annie Gill (nee Kemp).
While the family were living in Sudbury his father was employed as an 'outfitters'
manager'. By 1911 the family had moved to 34 Whiting Street, Bury St. Edmunds
and his father was recorded as a commercial traveller and wholesale grocer. Albert
was still at school but was employed part time as an errand boy.

Albert enlisted in Bury St. Edmunds as a regular soldier formerly 2716 with the
Suffolk Regiment.

He was killed in action on 28th March 1918. There is no known grave and he is
remembered on the Arras Memorial, Arras, France.

Albert is also remembered on the Roll of Honour for Bury St. Edmunds and in the
Suffolk Regiment Chapel, St. Mary's Church, Bury St. Edmunds.